The Cherrydale Volunteer Fire Department's event venue, Binns Memorial Hall, is available for rent to individuals or groups for many different types of events. Binns Memorial Hall is located on the second floor of the historic Cherrydale fire station at 3900 Lee Highway in Arlington. For additional information, including pictures of the Hall empty and set up for events, please scroll below.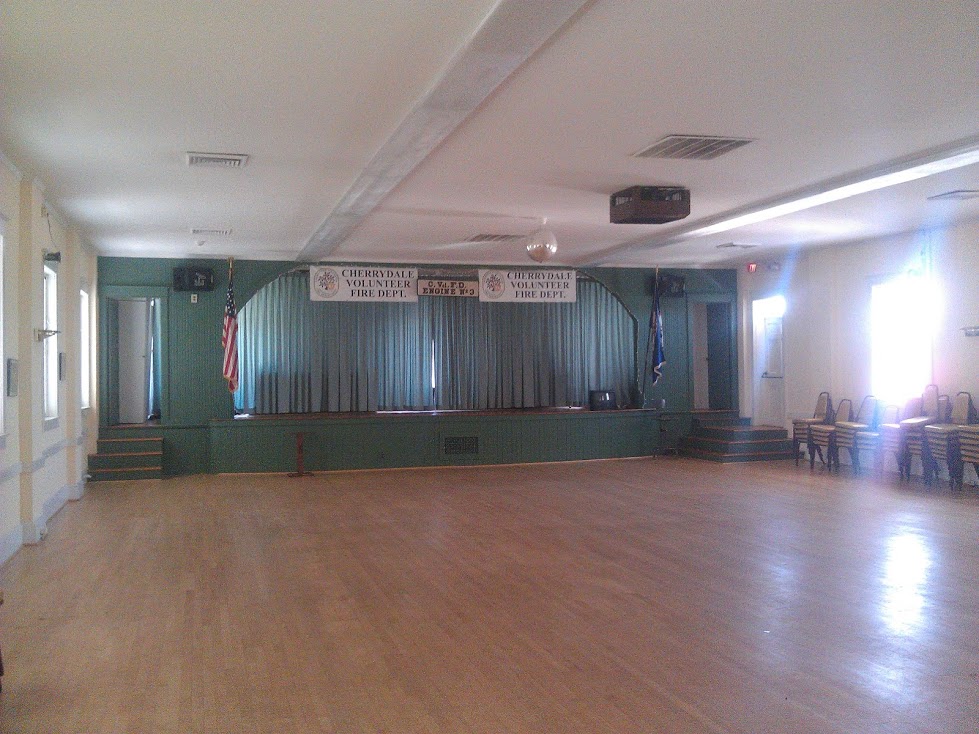 Our hall is available for all your needs:
Birthday Parties
Give your child a unique party with an authentic firefighter gear demonstration and fire truck tour, from $350 for a 3-hour party. We can accommodate longer parties as well.
Special Events
Your special event will be even more special when you hold it in our historic hall, starting at $350 for a 3-hour event.
Meetings
Looking for a local space to hold your organization's meetings? We've got you covered. We offer agreements for recurring use, too!
Facility Availability & Reservations:
Monday – Friday: 8:00 a.m.-10:00 p.m.
Saturday & Sunday: 7:30 a.m.-10:00 p.m.
All music or other amplified sound must cease by 9:45 p.m.
Reservation time includes all setup and cleanup times.
Click HERE to check availability
Fill out our convenient online request form below today to learn more!
Hall Features:
Length x Width (feet): 67 x 37 (area of floor not including stage)
Seating Capacity:
150 guests for a meeting (theater-style seating with stage for speaker)
150 guests for a standup reception or buffet-style mea
100 guests for a banquet (not including wait staff)
Hall Rentals Include:
All tables and chairs (10 Tables & 80 Chairs)
Public Address System/Speakers for Music
Use of a stage and podium with microphone
Air Conditioned
Bar Area (Alcoholic beverages may be allowed with conditions)
Rotating Disco Ball
Frequently Asked Questions
Do you allow alcohol?
At this time, CVFD does permit alcohol in the social hall subject to additional conditions and fees.
Who sets up and cleans up?
The party renting the facility is responsible for setting up for your event and returning the room to the condition in which it was found in prior to departing.
Can I use decorations?
Small decorations are permitted in the facility. Specific rules regarding decorations will be discussed with our hall rental coordinator. Open flames are not permitted; however, birthday candles are permitted.
How do I get there? Is parking available?
Address: The fire station address is: 3900 Lee Highway, Arlington, VA 22207.
Parking: The social hall does not have designated parking available. However, surrounding street parking is available in both metered and non-metered spots.
Public Transportation: The fire station is not Metrorail-accessible. However, Metro and ART buses do stop near the station as listed below
Metro Bus Line 3A from the Rosslyn Metro Station (Blue/Orange Lines)
ART Bus Stops 53A and 53B (ART Bus stops at N. Quincy and 21st St. N.)
How are my rental fees used?
All proceeds from hall rentals are used to fund CVFD's charitable mission of protecting life and property in Arlington County. Hall rental income accounts for approximately half of the department's annual budget.
If you are interested in renting the hall, please complete the CVFD Hall Rental Request Form below. A hall rental representative will contact you with additional information.